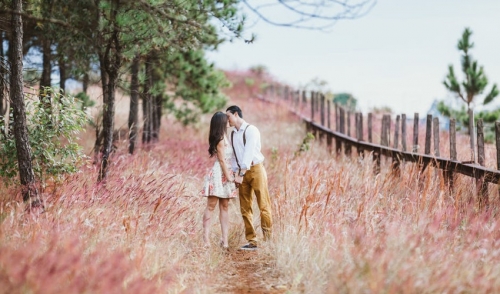 With its stunning foliage, vibrant harvest shades and rich seasonal textures, autumn can be a beautiful time for a wedding. With so much beauty to work with, however, it can be challenging to create an elegant, amazing day without going overboard. These ideas for a festive fall wedding can help you plan a coordinated event that showcases not only the amazing season but also the amazing love of your special day.
Festive Fall Venues
There are many gorgeous ceremony and reception locations that can highlight autumn's beauty. Both indoor and outdoor locations can be suitable, but if you truly want a festival fall spirit for your event, choose a location that will offer good views of autumn foliage, harvest fields or other seasonal landscapes. Botanical gardens, mountain lodges and quaint inns may all feature amazing natural beauty, and buildings with rough stone walls or exposed beams evoke the rustic nature of the season. You can also consider more unique options such as a pumpkin patch, vineyard or apple orchard. Barns and ranches are popular options for fall weddings, or you might opt for a haunted house or similar spooky site.
Coordinating Seasonal Colors
Autumn is a riot of beautiful colors, from bright yellows and oranges to rich reds, browns and even deep purples. Jewel tones such as mahogany, ruby, amber, burnt orange, crimson, chocolate brown and amethyst are amazing colors for a fall wedding, and you can even opt for classically elegant black-and-white for a formal affair. Accent your boldest colors with pops of lighter shades such as yellow, tan, ivory or cream, or add a touch of glitz and shimmer with bronze, copper or gold metallic highlights. For more of a rustic feel, you might even incorporate plaid designs and flannel fabrics.
Amazing Autumn Lighting
There are many ways to light up your autumn wedding day even as Mother Nature is shortening the days. Candles are always a romantic choice for weddings, and to add an autumn twist, display your candles in seasonal holders, rustic lanterns or even jack-o-lanterns. Warm-toned twinkle lights or rope lights can be used for ambient lighting, or you can add elegance to your event with candelabra centerpieces. Fire pits are another fun option for an outdoor fall wedding and will not only add light but also help keep your guests cozy warm as evening temperatures fall.
Delicious Fall Menus
There is no better way to embrace fall as part of your wedding festivities than with a delicious seasonal menu. While pumpkin is the quintessential fall flavor, there are many other options you can add to your appetizers, entrees and desserts. Rich dark coffees or spicy ciders are ideal for drinks, whether you want to serve them during a cocktail hour or throughout your event. Scrumptious soups and savory roasts are great fall options for a wedding meal. Incorporate flavorful spices such as cinnamon, nutmeg, ginger, cloves, rosemary and sage into different dishes, and sweeten your menu with apples, caramel or maple flavorings. Even your wedding cake can have a seasonal twist with cream cheese icing, caramel or mocha filling or hints of pumpkin or hazelnut. If you'd like a little more fun in your menu, consider adding a trick-or-treat candy bar, candy corn or even s'mores for nostalgic treats.
Have Fun With a Fall Theme
Themes can help bring your fall wedding together with related locations, colors, lighting, menus and other details, all of which embrace a key part of this iconic season. Stunning fall wedding themes include…
Harvest – An easy and classic theme, you can accentuate the bounty of autumn's harvest by incorporating hay bales, wheat sheaves, nuts, squashes and similar items into your event. Consider using burlap, flannel, raffia and other rustic fabrics to coordinate different accents.


Pumpkins – Focusing on pumpkins is a simple way to bring fall to your event. Use pumpkin planters as centerpieces, miniature pumpkins for placecard holders, initials carved into pumpkins for elegant accents and even a quilted pumpkin as a ring pillow.


Appletastic – If you prefer apples as your fall treat, your entire wedding can be apple-licious. Offer caramel apples or other apple treats, and use bowls of apples as colorful centerpieces. Apples can even be carved as charming votive holders for seasonal lighting.


Leaves – It's easy to design your festive fall wedding around the season's colorful leaves. Use a thick layer of leaves to line your aisle, sprigs of leaves in your bouquet, bright leaves as table cover decorations and leaves cascading down the sides of your cake.


Halloween – Have fun with a Halloween theme, whether you want a quirky ghosts-and-goblins approach or a spookier corpse couple or zombie theme. Bats, black cats and other symbols can also add a spooky flair to the day, and you can even invite your guests to attend in costume.
No matter how you embrace the season, fall is a rich, dynamic season filled with beauty. Highlighting the season with a festive fall wedding can make your special day even more memorable and you'll be able to relive the romance, excitement and love you share as you celebrate your anniversary each autumn.